Name at Birth
Thomas Edward Patrick Brady, Jr.
Date of Birth
August 3, 1977 (age 34)
Birthplace
San Mateo, California,
USA
Height
6 ft 4 in (1.93 m)
Relationship Status
Married
Children
John and Benjamin
Nicknames
California Cool
Tom Brady is an American football quarterback for the New England Patriots of the National Football League. He has won three Super Bowls with the team and is, without a question, a future inductee to the Football Hall of Fame.
Brady has two sons, one with actress Bridget Moynahan, and one with his wife, supermodel Gisele Bündchen, with whom he was married in 2009.
Relationship History
Edit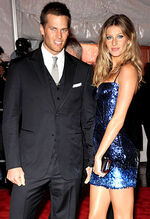 After playing college football for the University of Michigan, Brady was drafted by the Patriots in the sixth round of the 2000 NFL Draft. Since then, he has played in four Super Bowls, winning three of them and earning MVP honors in two. He has been selected to the Pro Bowl seven times (but didn't attend in 2006) and won the NFL MVP award twice (2007 and 2010). He is the only player along with Joe Montana to win NFL MVP and Super Bowl MVP multiple times each.
Brady has been named Sports Illustrated's Sportsman of the Year (2005), The Sporting News' Sportsman of the Year (2004 and 2007), and the AP's Male Athlete of the Year (2007). He was ranked the best player of 2011 and the 21st best player of all time by NFL.COM
Brady has the 5th highest passing rating of all time (95.2) among quarterbacks with at least 1,500 career passing attempts. Needless to say, he holds many records, including the most touchdown passes in a single regular season (50), a 14-5 post-season record, and the longest consecutive win streak (21 games over two seasons) in NFL history. Visit his Wikipedia page for more information on his career and records.
Community content is available under
CC-BY-SA
unless otherwise noted.